Summer travel season is in full swing, but not all travels need to be far and wide. Sometimes you just need a change of scenery for the weekend to recharge. Whether you're visiting from afar, a metro-Atlantan curious about what's happening on the Southside, or a District resident looking to escape the doldrum of adulting this summer, we've got you covered. With our eclectic blend of entertainment, culture, and scrumptious culinary and beverage options, the ATL Airport District is the perfect destination for your next "grown-up" weekend getaway with a special someone, your friends, or heck, even solo.
Lodging
First up, you've got to find your home away from home (for a night or two). The District has a variety of full-service lodging options to choose from, each providing its own unique charm, style, and character. Our top pick for a modern boutique hotel experience is the Kimpton Overland Hotel in Hapeville. The hotel's many amenities include free bicycles to use during your stay, perfect for exploring the District at a more relaxed pace. The onsite restaurant, Apron, and rooftop bar offer panoramic views overlooking the Porsche test track next door. Turns out, watching fast cars zip around hairpin turns while planes take off and land overhead goes really well with a cocktail. 
Activities
There's no shortage of fun things to do in the District. Get your day started right with a little self-care at one of our yoga studios, Paper Plane Yoga in College Park or Sanskrit Moon Yoga in Hapeville. Or get your blood pumping at Cycle Gang Fitness Studio just off Main Street in College Park. In addition to a variety of fitness classes, The Wellness Spot offers spa treatments, including mani-pedis, massages, facials, and more. It's a true oasis within the District that is worthy of a trip to College Park all on its own.
Once you've got your body taken care of, it's time for a little grown-up fun. The Porsche headquarters in Hapeville doubles as the Porsche Experience Center Atlanta. The newly expanded test track is waiting for you to show off your driving skills. Or enjoy the thrill of being a passenger as one of their expert drivers takes you for the ride of a lifetime. Not quite your speed? Book a guided tour of the facilities and museum, make a reservation at the acclaimed Restaurant 356, or take the virtual pole position in the simulator lab, which provides the next best thing to the real track experience.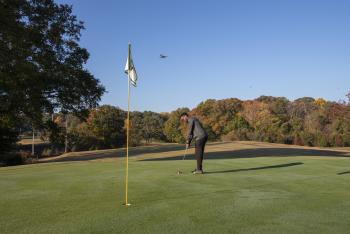 Is golf your thing? The Historic College Park Golf Course, a beautiful nine-hole course built in 1929, is offering a special package that includes a tee time with a golf cart, club rental, and 2 sleeves of golf balls for just $70!
The WNBA's Atlanta Dream still has plenty of home games this summer. Be sure to check out their schedule and snap up tickets if the stars align and they are playing at the Gateway Center Arena during your stay!
Eat & Drink
The best part about traveling is taking a break from cooking and pouring your own drinks, amiright? For unique dining experiences complete with handcrafted cocktails on the menu, might we suggest Paper Plane in Hapeville or Virgil's Gullah Kitchen & Bar in College Park? Paper Plane is the District's go-to spot for authentic Thai cuisine. Settle in for a relaxed dining experience in their chic dining room and sample local beers on tap, explore the well-appointed bourbon selection, or indulge in an expertly crafted cocktail (their lychee martini is a must-try!). 
Virgil's Gullah Kitchen & Bar offers another authentic dining experience serving traditional Gullah Geechee recipes that honor the oldest Black culture in America. While you're there, be sure to try one of their signature cocktails. The Yella Boi, made with tequila, orange liqueur, and fresh peach puree, is kind of the perfect summer adult beverage.
For a super casual (yet super delicious) burger and beer, head over to Brake Pad's inviting patio that overlooks Main Street in Historic Downtown College Park. 
Sip and stroll through the Hapeville Arts Alley open container district with your choice of street-approved cup or growler filled with craft beer, cider, or wine from Beer Girl, Growlers & Bottleshop. Or take advantage of the long summer days at Arches Brewing, where 14 onsite brewed artisan beers can be enjoyed in their lively outdoor space that hosts a regular line-up of events.
Late Night
You've already packed a lot into your day, but you're an adult on vacation (or staycation), so let's keep the fun times rolling. Get your laugh on at the Uptown Comedy Corner in Hapeville. They host a variety of top-notch comedians each week with late shows on Thursday – Saturday nights.
For a more intimate lounge experience, head over to Aye Tea Elle in College Park for elevated tapas, incredible cocktails, and hookah on the patio. With a variety of weekly events, odds are good that something special will be happening at this adults-only gem while you're visiting.
Don't let summer slip by without having a little fun. Carve out time in your schedule, grab a friend or someone special, and embark on an adventure in the ATL Airport District!