As the Destination Marketing Organization (DMO) for College Park, Hapeville, and Union City, we are proud to do our part to attract visitors to our cities from across the country. In honor of the 40th anniversary of National Travel and Tourism Week (NTTW) - which celebrates the travel industry's essential role in stimulating economic growth, creating quality job opportunities, and cultivating vibrant communities - we've narrowed down our top 40 reasons to visit the ATL Airport District. There is so much to see and experience here in the District! Get ready to file away ideas for your next trip.
Connectivity
The ATL Airport District is synonymous with convenience and accessibility, providing visitors with a seamless travel experience whether arriving by car or plane. As home to the world's busiest airport, the Hartsfield Jackson Atlanta International Airport (1), the District welcomes visitors from around the globe every day. A free 2-minute ride on the ATL SkyTrain (2) brings travelers to Gateway Center Campus, home of the state-of-the-art Georgia International Convention Center (3) and fabulous Gateway Center Arena (4). From the airport or Downtown College Park, visitors can hop on MARTA (5), Atlanta's combined bus and rail mass transit system, for a fast and affordable way to explore nearby Atlanta attractions. For those embarking on a road trip, our convenient location near all of Atlanta's interstate highways - I-75/85, I-285, and I-20 makes getting here a breeze (6)!
Outstanding Accommodations
With over 7,000 rooms available, the ATL Airport District offers a diverse range of lodging options to suit every traveler's needs and preferences. Did you know that visitors staying in the District save an average of 30% on hotels compared to downtown Atlanta (7)? For lodging options near the airport or Gateway Center Campus, choose from several familiar hoteliers such as Atlanta Airport Marriott Gateway (8), AC Hotel Atlanta Airport Gateway (9), Hilton Atlanta Airport (10) and Hotel Indigo Atlanta Airport (11).
For a high-end experience, opt for the Kimpton Overland Hotel (12) and enjoy hand-crafted cocktails while watching planes take off and land at their rooftop restaurant, Overdrive Lounge (13).
Sip and Savor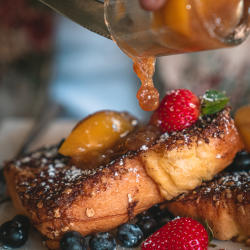 Your taste buds are in for a treat when you're in the District. Start the day with a caffeine fix and breakfast at JPresso (14), our favorite funky coffee shop in Hapeville. For lunch, enjoy authentic Thai flavors al fresco on Spoon @ Paper Plane's patio (15). For a scrumptious dinner, head over to Downtown Historic College Park to sample from the District's multitude of Black-owned restaurants, including Bole Ethiopian Restaurant (16), The Corner Grille (17), Johnny's Chicken and Waffles (18), The Real Milk & Honey (19),  Nouveau Bar & Grill (20), Pit Boss BBQ & Spirits (21) and Virgil's Gullah Kitchen & Bar (22). Craving a nightcap? Beer enthusiasts will appreciate the craft brews at Arches Brewing (23) or enjoy an impressive selection of beers on tap and bottled at Beer Girl, Growlers and Bottle Shop (24).
Captivating Art
The District is home to a thriving art scene for the enjoyment of residents and visitors alike. Be sure to check out our Insta-worthy murals, such as "Living Walls" by Yoyo Ferro (25), a moving performance at Academy Theatre (26), a comedy show at Uptown Comedy Corner (27), and a printmaking workshop at Atlanta Printmakers Studio (28). 


Get Outside
For those seeking an outdoor adventure, check out the Tom E. Morris Sports Complex & Skate Park (29) or take a scenic stroll through Phoenix Trail (30), a 2-mile rail trail in College Park. Prefer to tour on 2 wheels? Rent a bicycle from the Outback Bikes Hapeville Hub (31) and cruise around the unique neighborhoods in the District. Golf enthusiasts can tee off at the Historic College Park Golf Course (32), a beautiful 9-hole golf course built in 1929. Architecture buffs will enjoy taking a self-guided tour of the College Park Historic District (33), Georgia's fourth largest urban historic district with 867 structures on the Historic Register.
History & Home Teams

At the Porsche Experience Center (34), automotive enthusiasts can learn about the major performance characteristics of Porsche cars and thrill-seekers can satisfy their need for speed as they get behind the wheel on world-renowned race tracks in the Simulator Lab. Get an up-close look at historic aircrafts dating back to the 1920s at the Delta Flight Museum (35) and strap into the Boeing 737 flight simulator, the only one of its kind open to the public in the U.S.  Step back in time and experience what life was like when America ran on rails rather than roads at the Hapeville Depot Museum (36). For a taste of culinary history, visitors can tour the Chick-fil-A Backstage Tour (37), to learn about how the famous Chick-fil-A sandwich was invented in 1946. For basketball fans, the Gateway Center Arena is home to TWO teams: the Atlanta WNBA team, Atlanta Dream, and the College Park Skyhawks (38), the Atlanta Hawks G-League affiliate team! 
Self-Care
Those looking to add a healthy dose of wellness to their stay can visit Cycle Gang Fitness Studio (39) for a heart-pounding workout or indulge in an array of spa treatments at The Wellness Spot (40).
While we've narrowed this list down to 40, there are so many great reasons to visit the District. And there are an endless number of great reasons to celebrate and support the travel industry. Be sure to follow us on Instagram to learn about more of our favorite spots, and stay up-to-date on NTTW taking place May 7 through 13 by following @USTravel_Association.