One of the many distinguishing factors that sets the ATL Airport District apart from other meeting destinations is its accessibility. Visitors can easily travel to and from the District via the complimentary ATL SkyTrain or a quick shuttle from the Hartsfield-Jackson Atlanta International Airport. In addition, there are multiple walkable pockets throughout the area that are great for discovering the District on foot, and below we've outlined our recommendations. Whether planning your next meeting or event at the Georgia International Convention Center (GICC) or at one of our partner hotels, these walkable restaurants, shops and attractions will add the perfect dose of culture to your event itinerary. 
Downtown College Park
Located just one mile from the GICC, Downtown College Park is a vibrant neighborhood and cultural hotspot with a plethora of things to see and do. In the heart of downtown, Yoyo Ferro's "Living Walls" mural brings life and energy to the cityscape, making it an ideal location for a leisurely walk. For a dose of nature therapy, attendees can stroll through Phoenix Trail to enjoy the fresh air and vibrant greenery. Downtown College Park is home to iconic brunch spots such as Nouveau, Virgil's Gullah Kitchen & Bar and Johnny's Chicken and Waffles. Brake Pad's patio is a great spot to unwind on a nice day while enjoying a scrumptious burger, ice-cold beer, and hip atmosphere.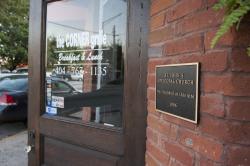 The District is well-known for its support of black and minority-owned businesses such as Aye Tea Elle Elevated Tapas, Cycle Gang, Paper Plane Yoga, and many more! In addition, the Wellness Spot on Main Street is perfect for those in need of a spa day or a yoga class to calm their mind.
For lodging in Downtown College Park, Hotel Indigo is an ideal option within walking distance of these recommended restaurants and establishments. Featuring a neighborhood-inspired design, Hotel Indigo offers complimentary shuttle service to and from the airport, locally inspired dining venues featuring ingredients from their on-site herb garden, and a killer cocktail program. 
Downtown Hapeville
Hapeville, located just east of College Park, is known for its high-quality cuisine, vibrant streets, and booming art scene. The destination is just four miles from the GICC, and home to several popular meeting and event venues perfectly positioned in walkable neighborhoods.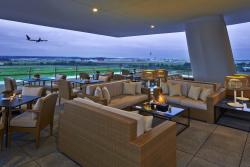 For example, the Kimpton Overland Hotel is a modern venue with 6,100 square feet of meeting space and two lovely dining options, Apron and Overdrive Lounge. It overlooks the 1.6-mile racetrack at the Porsche Experience Center, a Hapeville gem.
As for walkable areas nearby, attendees can jumpstart their day in Hapeville with a quick, classic meal at the Chick-fil-A Dwarf House, where the famous Chick-fil-A sandwich was invented in 1946. Next, attendees can stop by the Depot Museum and experience what life was like when America ran on rails rather than roads. 
Those looking for a craft beer fix can visit Arches Brewing and try the Dream Empire, the first-ever WNBA craft beer. There are plenty of delicious food options in downtown Hapeville, including Fishbowl Poke, Mami's La Cubana and Volare Wine & Bistro. Finding a spot to dine will be easy, but deciding between the variety of decadent options may be a challenge. Luckily, Downtown Hapeville has delicious restaurants that are sure to satisfy every traveler's appetite. 
Virginia Avenue
As one of our top walkable areas, Virginia Avenue marries the flavors of multiple neighborhoods to provide an unforgettable experience for visitors looking for nearby entertainment. For a fun night filled with laughter, the recently reopened Uptown Comedy Corner is the perfect choice. This star-studded comedy club keeps Virginia Ave on its toes! With performances from comedic greats such as Kevin Hart, Mo'Nique and the late Paul Mooney, guests can experience excellent service and many laughs in one location. 
This popular street also features several top-rated, locally owned restaurants, bars and cafes. Bole Ethiopian has satisfied the community for the last eight years with its international flavors and unique menu options. Spondivits is the place to go for raw oysters and a laid-back vibe.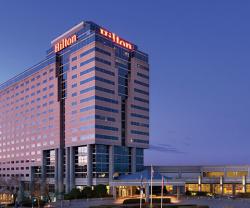 For lodging, the Hilton Atlanta Airport Hotel offers stylish rooms, a lively sports bar, and an indoor and outdoor pool. Their recently opened restaurant, Redeye Southern, is a main attraction with unmatched hospitality, specialty cocktails, authentic BBQ and an overall elevated experience. In addition, the hotel offers more than 34,000 square feet of meeting and event space including two ballrooms, 28 meeting rooms and three boardrooms including an amphitheater.
If walkability is important when planning your next meeting or event, look no further than these walkable pockets of the ATL Airport District. Our team is equipped to help you plan and prepare the perfect itinerary based on your selected venue and agenda. Start planning your visit to the district now!