Meeting Planners
THINK OUTSIDE THE BOXES YOU HAVE TO CHECK.
There's more to an event location than convenience, accommodations, and affordability. A lot of destinations check those boxes. And the ATL Airport District is no different. What does make us distinct is the experience we offer beyond the "must haves."
It's all the "maybes" we offer. Maybe your guests want to venture out for some good eats. Maybe your guests want to catch a live band at a local brewery. Maybe your guests want to get some exercise outside of a hotel gym.

As up-and-coming as it is down-home, the District offers visitors all of these "out of the box" options and then some. Here, guests can tap into the kind of energy that can only be found where forces of industry, technology, creativity, and history meet.

So while we check all the boxes you're concerned with: the world's most efficient airport (check!), the country's only convention center directly connected to a major airport (check!), and more than 8,000 hotel rooms with free airport shuttle service (check!). We also check the boxes your guests want: a vibrant community with lots of options for recharging, relaxing, and satisfying their appetite for something new.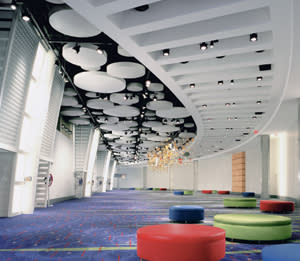 The Georgia International Convention Center is the country's only convention center connected to a major airport, and it features Atlanta's largest ballroom. Besides that, it's the prettiest and coolest around. >>
Planning a meeting? Use our RFP button below to give us your details