Hapeville's historic downtown district is home to an abundance of artistic culture, eclectic dining experiences, and economic opportunity. Located about seven miles from downtown Atlanta, the city features Georgia's longest running professional theater, Academy Theatre, as well as several art galleries and a dynamic collection of murals by local artists. Adding to Hapeville's growing arts scene is the Atlanta Printmakers Studio which debuted with a grand opening celebration last month. Read on to learn more about this new gem in the ATL Airport District!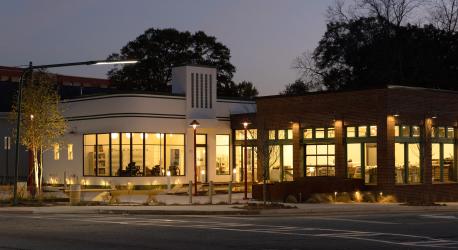 Formerly located in southwest Atlanta, the 18-year-old Atlanta Printmakers Studio (APS) has found its new home in downtown Hapeville at 748 Virginia Avenue in a renovated 1950's Amoco gas station. The new space features increased capacity, equipment and amenities including new classes and workshops, a printmaking museum, gallery, store, and outdoor gathering space. The new APS facility is larger than its previous location and is walking distance from many of Hapeville's restaurants and shops.
Founded in 2005, APS is a non-profit organization and the only local community-access print shop with workspace for printmakers and classes for all levels. Classes are offered 3 to 4 nights a week and support a variety of printmaking processes. Starting this February, the studio will host its "Relief Carvers United" social every third Thursday of the month for local carvers to get together and share their work. The studio also hosts its annual steamroller event "Print BIG!" which takes place each spring and features a variety of festivities including the printmaking extravaganza, a display of artwork, studio tours, and an opportunity to create your own print.
The studio officially debuted with a grand opening celebration on January 28. Emceed by Atlanta News Nation anchor Tracye Hutchins, the event was well attended by Hapeville residents and community leaders and featured tours of the new space, as well as printmaking demos and a raffle.
For more information, please visit www.AtlantaPrintmakersStudio.org.