With an abundant amount of murals, galleries and museums, each of ATL Airport District's cities has its own unique history to discover! Interested in learning more about the artistic and cultural learning opportunities available to members of the community? Check them out below!

College Park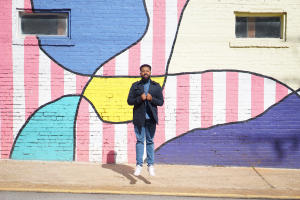 There's an abundance of art and culture for visitors to discover in College Park. It's the perfect place for a walk – and taking in all the nearby scenery, including Yoyo Ferro's "Living Walls" mural, which brings color and energy to the downtown area. In addition to "Living Walls," the community is home to several other murals and embraces the arts through programming and community development.
Paper Plane Yoga transitions into a lively art gallery every Saturday from 12 to 8 p.m. for guests to enjoy! The gallery welcomes artists in different areas of expertise, ranging from photographers to musicians and fashion experts, and allows them to show off their talents for in-person and online audiences.
Recently renovated into a workplace for artist Millie Gosch, historic site The City Muse doubles as a workshop for arts students and an art exhibit, available for the public to enjoy. Allowing students to perfect their craft, The City Muse welcomes the community to enjoy art exhibits and an outdoor studio, named the "Secret Garden."
East Point
ArtsXchange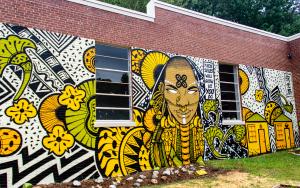 Open to artistic expression of all kinds, ArtsXchange is an inviting space for inspired artists to find and grow their passion for the arts! ArtsXchange is available for East Point residents to host events and performances, while also offering educational opportunities - connecting the arts and the community as a whole. 
Artzybella Studio and Shop
Find balance and wellness in your life through the arts at Artzybella Studio and Shop! Artist and founder, Ashley Bella, decided to open a space that allowed her to share the therapeutic benefits of creativity and art with the community. Guests can sign up to enjoy virtual paint parties, art classes and beyond.
Ballethnic Dance Co.
Enhancing cultural diversity and community involvement, Ballethnic Dance Company creates and produces original performances that foster a deep appreciation for the arts. Ballethnic provides an opportunity for community members to express themselves through dance, all while making a difference in East Point.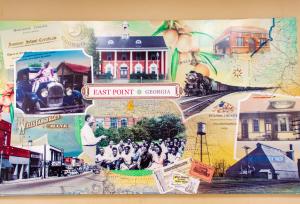 East Point Historical Society and Museum
Celebrating the city of East Point, the East Point Historical Society holds various events and educational opportunities for residents to cultivate and maintain an understanding of the city's history. The space is open on Wednesdays from 10 a.m. to 1 p.m., and Saturdays from 10 a.m. to 2 p.m.
Located on the corner of Main Street and White Way, guests can marvel at a mural offering a glimpse into the city's historic past - painted by artist John W. Christian. As a part of the Georgia Mural and Public Arts Trail, this work of art highlights prominent points in time relevant to the city of East Point's history - providing residents and guests with both a cultural and educational experience.
Hapeville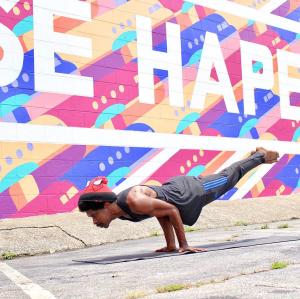 Hapeville Arts Alliance - Mural Project
Introducing art exhibitions and performances to Hapeville, the Hapeville Arts Alliance works to support the dreams of local artists. The Arts Alliance has commissioned the Mural Project in Hapeville to create a lasting visual impact in the historic city. Enjoy the city's colorful and lively murals - including Rise Hapeville, a tribute to Mrs. Marjorie Protho, "On Point" and many more! 
The Hapeville Arts Initiative is a collaborative effort of the Hapeville Arts Alliance, Academy Theatre and the Hapeville Historical Society. The three groups host monthly gallery crawls on the second Saturday of the month from 4 to 8 p.m. in efforts to transform the city of Hapeville into a thriving arts community, and often posts open artist calls online.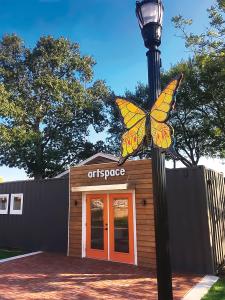 The Hapeville Maker Space Art Gallery
Celebrating innovation and creativity, the Hapeville Maker Space Art Gallery supports local artists through gallery exhibitions, artist talks, community events and more. The beautiful art gallery houses pieces from famous local artists, alongside artwork by artists across the nation.
Arches Brewing offers the Hapeville community more than just a beer! Arches Brewing holds various art exhibitions throughout the year, each with a different theme - and allows guests to enjoy a cold beer while perusing local artwork.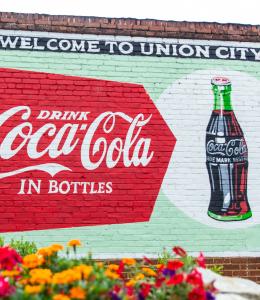 Union City
Unveiling its restoration in 2018, Union City partnered with Birmingham-based Coca-Cola Bottling Co. United to revive the historic, yet faded, mural in celebration of its 110th anniversary. Located on the side of Styles by Monica Salon in downtown Union City, the mural is a symbol of unity between the city and the Coca-Cola company, and how their partnership fostered community growth throughout the years.