In the ATL Airport District, diversity and inclusivity aren't trends; they're our strengths for exceptionally welcoming meetings and conventions. Our commitment to embracing people from different cultures, backgrounds and walks of life makes us the perfect place to host your next gathering. Here's how our diverse destination and team turn ideas into inclusive meeting experiences.
✈ ✈ ✈
Creating Inclusive Meetings and Experiences
The Human Rights Campaign Foundation's 2022 Municipal Equality Index (MEI) gave the Atlanta metropolitan area a top score of 100 on its level of diversity in non-discrimination laws, municipality as employer, municipal services, law enforcement and leadership on LGBTQ+ equality. Our destination is truly a beacon of diversity, notably in the business world.
What does this mean for meetings? Planners can work with professionals from diverse backgrounds to level up their events. Our ATL Airport District CVB team has firsthand knowledge from planning our annual meetings and Spin the District cycling series. We tapped into the District's multicultural business ecosystem to partner with companies like Q&A Events, a production team owned by LGBTQ+ individuals, and Grace First Video Production, a Black woman-owned business, to make our events memorable.
Our team is happy to use our experience to connect you with local businesses and minority-owned partners and suppliers in the District to ensure your meeting is a success. Let us go above and beyond for you like we did for Alpha Kappa Alpha Sorority, Inc. We helped the sorority successfully plan its 69th South Atlantic Regional Conference by connecting them with our thriving Black-owned restaurant community. Our Director of Destination Services and President went door to door to restaurants to build relationships with the owners and prepare them for the group's arrival. Their efforts resulted in an exclusive restaurant discount program available to conference-goers.
Embracing Cultural Diversity
Known for our inclusivity, the ATL Airport District is proud to be a melting pot of cultures that shapes our destination and identity. We welcome the world. That's why when you bring your attendees to meet here, everyone will feel right at home.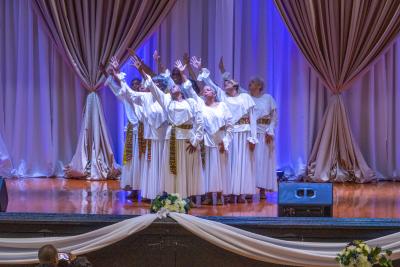 The multifaceted spirit of the District can be felt as soon as you arrive. Our locals come from different backgrounds, industries and cultural heritages. These diverse influences are present throughout our destination—from the vibrant art scene to savory dining options to the flourishing business community. Everything here reflects our mosaic of cultures.
The ATL Airport District CVB team is also made up of professionals from all walks of life who use their unique talents to assist planners like you with putting together one-of-a-kind conferences and conventions.
In addition, we go beyond traditional support and actively engage with our partner cities' multicultural events, such as College Park's Black History Month Program and Hapeville's Día de Muertos Celebration. We provide marketing support to ensure each event shines in our diverse community.
Accessibility Services Across the City
Accessible meetings are inclusive meetings, and in the District, we are dedicated to making sure events held here are welcoming to all attendees. There are a variety of accessibility services to help foster a culture of inclusivity and equality. These accommodations include:
ATL ADA
Hartsfield-Jackson Atlanta International Airport (ATL) is committed to helping all guests with different abilities and special needs travel safely and enjoyably. The ATL ADA team has implemented the following services and programs to make this possible:
Wheelchair Assistance
TSA Care Helpline
ADA and Special Services Map
Hidden Disabilities Sunflower
Sensory Room Concourse F
Accessible Restrooms
Accessible Drinking Fountains

Service Animal Relief Areas
Wheelchair Charging Stations
TTY/TDD Telephone Locations
Accessible Elevators
Ground Transportation
Bus and Rail Transportation
Airport Parking
Single-Level Convention Center
To ensure all attendees can access your meeting, the single-level Georgia International Convention Center (GICC) is available for events of all sizes. And just because this convenient venue is one level doesn't mean that size is an issue. This state-of-the-art facility boasts 400,000 square feet of meeting space that everyone can access.
Scooters
If you have attendees with mobility issues, our team can connect you with a scooter company to get easy-to-operate vehicles for them to use. This way, everyone in your group can get around easily.
SkyTrain Access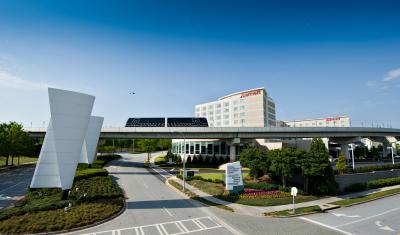 Getting everyone in your group to the GICC is simple with the help of the ATL SkyTrain. This free accessibility service provides quick, 2-minute rides between the airport and the convention center. Complimentary airport shuttle service is also available.
Accessible Hotels
The District also features 30+ meeting hotels (With a combined total of over 7,000 rooms) that offer a host of accessibility services to make your group's stay enjoyable while gathering here. Some of these amenities include:
Disability Access Parking
Accessible Guest Rooms
Accessible Restrooms
Door Handles (Instead of Knobs)
Audio and Visual Fire Alarm Indicators
Wide Doorways and Entrances
Wheelchair Ramps
Service Animal-Friendly Locations
✈ ✈ ✈
Ready to Embrace Diversity in the ATL Airport District?
Our team of experts would be thrilled to help you plan your next meeting or convention in our vibrant cluster of cities. Reach out to us or submit your RFP to start the process.