Inaugural Collegiate Esports Commissioner's Cup Makes History as Largest Event of its Kind, Solidifying Atlanta's Position as a Global Esports Leader
ATLANTA - May 20, 2022 - The inaugural Collegiate Esports Commissioner's Cup (CECC) presented by CDW and Microsoft, and powered by CSMG, ESPORTSU, and Skillshot Media, took place May 7-8, 2022 at the Gateway Center Arena in College Park, GA. The two-day festival marked the largest-ever single gathering of multiple esports conference commissioners, university leaders, and gaming communities, bringing together 63 teams and 480 athletes from around the country to compete for the ultimate titles.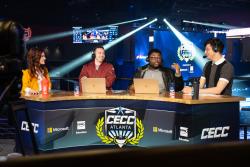 "Metro Atlanta is globally recognized as a top city for gaming and esports – which are among the fastest growing industries in the country. We are proud to have been chosen to host the first-ever collegiate championship-level event, which will not only bolster an explosive and in-demand career field amongst the collegiate community, but also showcase and drive the already booming esports market in Atlanta," said Mercedes Miller, Executive Director, Georgia International Convention Center/Gateway Center Arena. "The GICC and Gateway Center Arena are located just minutes from downtown Atlanta and Hartsfield-Jackson Atlanta International Airport, so competitors and attendees were able to come together and play with ease and convenience unmatched by other venues across the nation."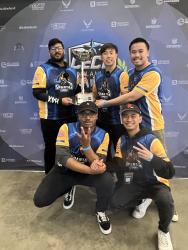 "As the premier 5,000-seat venue in the ATL Airport District, the Gateway Center Arena at College Park offers state-of-the-art facilities with a hyper-convenient location making it the perfect venue for this inaugural event," said Cookie Smoak, President, ATL Airport District Convention & Visitors Bureau. "We were thrilled to work with the Arena team and area hotels to bring this groundbreaking event to Metro Atlanta's Southside. Our ongoing work with the CECC and Arena teams will help promote growth of the booming esports industry in metro Atlanta and beyond."
More than 2,600 ticket holders were given access to CECC's festival experience which included a recruitment fair featuring Morris Brown College, University of West Georgia and University of Hartford. The festival also featured cosplay costumes worn by attendees, and in-arena and outdoor interactive activations by the Atlanta Falcons, Atlanta Hawks, College Park Skyhawks, CTRL, Cxmmunity, Futures First Gaming, Generation Esports, Ghost Gaming, Hawks Talon GC, Init Esports, Lymphoma & Leukemia Society, Neustreet, PCGz, Skullz, the*gameHERS, U.S. Air Force, and Zonebreakers. Fans also enjoyed food trucks by Carnival Food Truck, Eggroll Boyz, Love at Wurst Sight, The Hoagie Shack and Willie B's Sisters Southern Cuisine.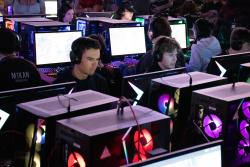 The weekend's crowned champions included Bay State College (Boston) in Super Smash Brothers Ultimate, Illinois State University in Overwatch®, Northwood University (Midland, MI) in Rocket League and San Jose State University in Valorant.
"CECC would not have been possible without the collaboration between our partners who joined forces to make this experience come to life. This event furthers our mission to build and scale the definitive framework for collegiate esports, elevating the workforce and leadership of tomorrow," said Angela Bernhard Thomas, EVP of ESPORTSU. "Atlanta and College Park have been gracious hosts for our celebration of collegiate esports, and we are looking forward to the next CECC for our student athletes, fans and brand partners."
For more information on the Georgia International Convention Center, visit GICC.com. Stay up-to-date on the latest GICC news by following @TheGICC on Twitter or Georgia International Convention Center on Facebook.
For more information on the Gateway Center Arena, visit https://arenagatewaycenter.com/ or follow @GatewayArena on Twitter or Gateway Center Arena at College Park on Facebook.
About Gateway Center Arena:
Gateway Center Arena @ College Park is a state-of-the-art 5,000-seat venue located in Metro Atlanta's Southside—a few minutes from downtown Atlanta via MARTA or the highway, and a three-minute Skytrain ride from Hartsfield-Jackson Atlanta International Airport. Operated by the Georgia International Convention Center (GICC), the Gateway Center Arena is home to quality entertainment and events including professional sports, concerts, family events, graduations, conventions and more. Event planners can bring the experiences they imagine to life in our world-class facility, with the help of the award-winning GICC staff, caterers from CulinAero by Proof of the Pudding, and three write-home-to-mom-worthy hotels. The Gateway Center Arena is also proud to be the official home to the Atlanta Dream and to the Atlanta Hawks G-League team, the College Park Skyhawks.
About ATL Airport District:
ATL Airport District is the official convention & visitors bureau for the cities of College Park, East Point, Hapeville and Union City, Ga. ATL Airport District CVB's mission is to generate economic development for the cities mentioned above by effectively presenting the community as a preferred tourism, convention and meeting destination. For more information, please visit https://www.atldistrict.com.
Media Contact:
Liz Herber, Hemsworth Communications
470-390-4615 or GICCPR@hemsworthcommunications.com