The ATL Airport District is not only your gateway to great meetings, but also your gateway to great restaurants and bars. From true Southern-style soul food to healthy, innovative cuisine and craft beer, our destination features amazing dining options for groups.
✈✈✈
Restaurants with Meeting Space
From College Park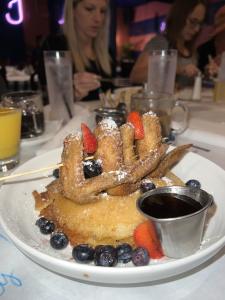 Order up! Located on Main Street, The Breakfast Boys serves brunch all day and exudes an eclectic vibe you won't find anywhere else. The eatery also offers private dining for up to 65.

The Corner Grille is a local favorite run by a husband-and-wife team with a mission to serve up exceptional American cuisine with a Cajun influence. The restaurant also features an upstairs private dining space for up to 35.
Get a taste of the freshest and best barbecue around at Hattie Marie's Texas Style BBQ Cajun Kitchen. The popular BBQ joint smokes all its meats in-house daily and features a private dining room for groups of up to 30.
Grab a slice of pizza and more at Mellow Mushroom College Park. This welcoming restaurant features vibrant art and design elements ranging from classic music posters and planes to race cars and historic figures—giving you a real feel for what the District is all about. Groups can also reserve a private dining room for up to 32 people.
Serving up traditional pub fare with a few local favorites, The Manchester Arms Pub features a warm and friendly interior space—which includes a private upstairs dining room for 25—complemented by a spacious outdoor patio for groups to enjoy a good meal together.
Groups can enjoy "the best burger in town" and a great patio setting when they dine at Brake Pad Restaurant and Bar. The converted old gas station is a great spot to refuel between sessions.
Opt in for a dining experience full of great food, energy and excitement at Nouveau Bar & Grill. The modern restaurant serves elevated American fare and features a VIP room, patio and rooftop—plus offers catering and specialized packages for events.
To Hapeville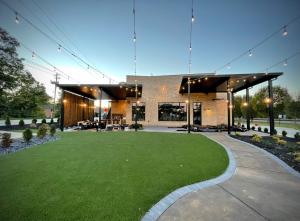 Give your attendees a taste of authentic Thai cuisine at Paper Plane. The restaurant features outdoor patios with plenty of seating and private dining space, which is available for a full buyout.

Situated in the heart of Hapeville, Volare Wine & Bistro provides groups with finely crafted seasonal cuisine using the freshest ingredients from local farms and vendors. The bistro also features outdoor seating and catering for small meetings or larger events.
At Redeye Southern Kitchen, the Southern hospitality experience is elevated for locals and visitors alike. Attendees will enjoy handcrafted cocktails, modern Southern and American dishes with a unique spin and good company at this stylish bar and lounge. RSK also provides a chic, charming space to host a private event for up to 60.
The iconic Chick-fil-A Dwarf House is a great place for medium to large groups to informally gather. The newly renovated building features plenty of space and has bus parking available.
✈✈✈   See More Restaurants Around the District   ✈✈✈
✈✈✈
Breweries & Taprooms
Sample a wide variety of beer selections at Arches Brewing. Located in the arts district of Hapeville, this craft brewery features over 30 distinct recipes—from year-round styles to seasonal to specialty and limited-release beer available only at the brewery. Plus, the venue offers an eclectic taproom and spacious outdoor Biergarten for hosting welcome events.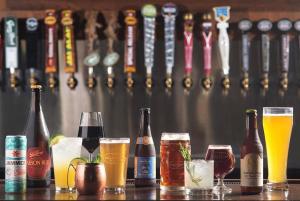 Recently opened in Hapeville, The Brass Tap is an upscale beer bar with 60 craft beers on tap, 200+ bottles & cans, and a large selection of wine, spirits, and great food. Whether your group is large or small, the venue has space to enjoy a unique offsite outing or event in a relaxed neighborhood atmosphere.
Bring your group over to Beer Girl, Growlers, and Bottleshop for fresh, local craft beer (they have 42 taps and more than 500 different bottled beers) and wines sold in eco-friendly glass growlers and by the package. The shop also has space available to rent for special events.
Looking for the best bar with a view in the ATL Airport District? Located on the eighth floor within the Kimpton Overland hotel, The Rooftop at the Overland is the go-to spot for groups to enjoy hand-crafted signature cocktails and small plates. The spacious, open-air lounge features panoramic views of the action taking place on the track at the Porsche Experience Center and the runways of Hartsfield-Jackson Atlanta International Airport.
✈✈✈   See More Spots to Sample & Sip   ✈✈✈
✈✈✈
Crave-Worthy Catering Services
Wh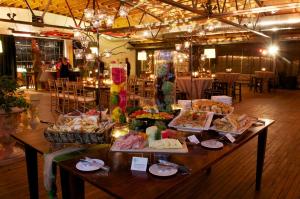 en you plan to meet on the Gateway Center Campus, you won't have to go far to find great food. Proof of the Pudding is the in-house catering company for the Georgia International Convention Center (GICC) and the Gateway Center Arena that provides innovative restaurant-quality cuisine crafted from the freshest ingredients available, plus, custom-tailored menus. From fine-quality concessions to catering for your meeting or trade show to banquets for 4,000+ guests, the company does it all.
✈✈✈
We're Servin' Up Successful Meetings
The ATL Airport District is full of incredible dining options for your groups. Plus, certain spots are part of our Deals in the District program for attendees to savor, sip and save! To learn more about planning a meeting or convention in our destination, reach out to our team of experts or submit your RFP to get started.