Our Sales Manager, Tyler Runyon, shared a recap with highlights from the tradeshows he attended over the past few months. Below, Tyler shares the benefits of our participation at these events as well as his key takeaways.
Q: WHAT WERE THE MOST IMPACTFUL TRADESHOWS THAT YOU HAVE ATTENDED IN THE PAST FEW MONTHS?
I had the opportunity to attend a variety of tradeshows throughout the country and have found that MPI WEC, FEA, Military Reunion Educational Summit, Lamont Associate Xchange Summit, Helms Briscoe Annual Business Conference, and Prevue Inspired Events Summit were the most impactful.

Q: TELL US ABOUT YOUR PRESENCE AT THESE EVENTS. WHAT WAS THE ATTENDANCE LIKE/WERE THEY WELL ATTENDED?
Attendance at events has steadily increased throughout the year and has been primarily enthusiastic, a catalyst of professionals' excitement for in-person meetings and talking business face-to-face. At tradeshows, our team takes the approach of being both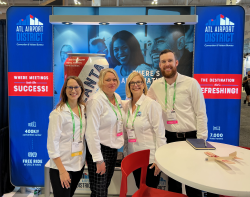 involved and present. We like to mix up the ways we engage planners, from tradeshow booths or one-on-one appointments to attending the activities or social functions offered by the tradeshows or conferences.

Q: WHAT WERE THE KEY TAKEAWAYS YOU GOT FROM EACH?
Association business is continuing to build and climb back from the pandemic. While it may not look the same as before, associates are meeting and moving in the right direction. Corporate business continues to show the desire and need to meet in-person. There is a wide range of how meetings are currently being handled but in general, corporations are back with smaller, typically more regional meetings, or have plans to return by next fall/spring. Both associations and corporations continue to look to us for education and to get a feel for the current state of travel in our area, what we are seeing other companies do, what current hotel policies are and so on.

Q: DID ANY STANDOUT OVER THE OTHERS AND WHY?
HelmsBriscoe and Prevue were two that really stood out for me. Since those shows, I have personally built new relationships that have resulted in shifting a larger corporate account to our area moving forward, as well as two significant site visits to our area. Multiple additional leads have also come out of each show.


Q: WHAT WERE YOUR GOALS AND OBJECTIVES GOING INTO THE TRADESHOW? WERE YOU ABLE TO ACHIEVE THEM?
Our goal as a sales team is to always bring back immediate business opportunities that fit into the ATL Airport District. We prioritize securing a variety of markets and sizes that fit our area's and hotelier's needs. Additionally, we focus on establishing and creating those pivotal relationships that can move or alter business in the future toward our area. I strongly believe we achieve these goals consistently across a plethora of shows.

Q: CAN YOU GIVE US A FEW EXAMPLES OF SUCCESSFUL CONNECTIONS MADE AT THE TRADESHOWS YOU'VE ATTENDED?
During the HelmsBriscoe Conference, the Phoenix Suns were playing in the NBA playoffs, and I was able to meet with and spend a great moment with the entire Arizona team while cheering on the basketball team to a victory that evening. Those moments are the ones that last. After joining a small group for dinner at Prevue, I solidified a potential new contact within the DC market that is prepared to introduce and help connect me with his contacts within that market of associations.