In 2016, Christy Deen opened Drip Thru Coffee in Stockbridge, Georgia bringing her dream of owning a coffee shop to life and serving a variety of hand-crafted beverages and grab-and-go bites. In 2018, Drip-Thru Coffee expanded to College Park, bringing the first specialty drive-thru coffee shop to the community. Deen is dedicated to serving organic, sustainable and delicious coffee to all, making a difference in the local community and the environment.
Q: Can you tell us a bit about yourself?
CD: I'm an Atlanta native with a passion for the coffee industry and customer service, and I've been in the restaurant business for 25 years now. I love staying connected with my customers - and building relationships with anyone around me - all with the goal of remaining a strong part of the community.

Before owning Drip-Thru Coffee, my experience in the coffee industry was mainly in the corporate sphere. I worked at Disney World in hospitality services, where I learned how to interact with clients and manage various store locations, as well as the ins and outs of the coffee world. From there, I moved to Atlanta's Hartsfield-Jackson Airport, learning the Starbucks way of roasting and serving coffee, before deciding I'd like to be my own boss. I dreamed up the idea of owning a drive-thru coffee shop and was able to use all of my previous experiences to create - and perfect - my own twist on the traditional coffee shop experience.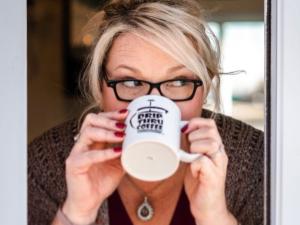 Q: What made you want to start Drip-Thru Coffee?
CD: Prior to opening Drip-Thru, I'd always worked for others. Finally, I was confident enough in my experience and passion to bring my vision to life. My husband and I took a trip to the Pacific Northwest, where we encountered a prolific amount of coffee drive thrus that were able to provide customers with quick, delicious coffee. We came back to Atlanta, built the coffee stand drive-thru and Drip-Thru Coffee was born!
Q: What is your favorite aspect of being a female business owner?
CD: I'm really proud to be a female business owner, and I truly feel a sense of accomplishment by contributing to the impact women have on the world of business, especially in the coffee industry. The industry can be really competitive, and I've always felt I had to prove myself. There is a significant male presence in the coffee world, so being a female who owns a shop is unique in the industry - and in business, overall. It's something I'm really proud of - changing the demographic in a male-dominated industry.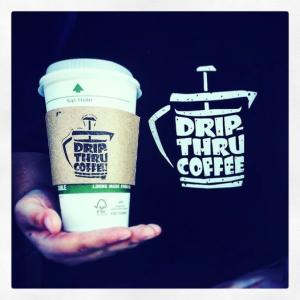 Q: Do you have any female mentors or figures you find inspirational?
CD: Throughout my experience in the food and beverage business, I've encountered many people along the way who have impacted my journey. When I worked at Disney World, I met a group of female leaders who helped shape my career and changed my life; they acted as my mentors and coached me into becoming the leader I am today. That group of women showed me the powers that different perspectives and people can have on the world. We still stay in contact, and they've visited Drip-Thru here in Atlanta, too.
Q: What advice would you give to aspiring female entrepreneurs?
CD: I really enjoy proving people wrong when I'm told I can't do something, so I'd tell female entrepreneurs to try their best and ignore the negative influences that may be around them - because they can do anything they set their mind to. My friend once said to me, "when someone tells you that you can't, you do it twice and take pictures." I've really adopted that mentality and motto, and now I do everything in my power to accomplish the goals I set.
Q: What makes Drip-Thru Coffee unique?
CD: At Drip-Thru Coffee, we are focused on benefitting our customers, employees and partners in the community through everything we do. We work with sustainable roasters and source our coffee from small-scale farmers located in Guatemala, Columbia, Ethiopia and other coffee growing communities through a partnership with Cafe Campesino. We work hard to maintain a direct relationship with the farmers who inspire us daily and help us to serve fresh, delicious coffee - day in and day out. At Drip-Thru, we only buy fair trade coffee, as it's important the farmers who grow the coffee are paid fairly for their product. The path our coffee takes from farm to customer is quite short, and our customers trust we're providing the highest quality beans. Once we have the product at the shop, we grind, brew and serve it daily - nothing pre-ground.

We're committed to working with other small businesses around the community to boost our local economy, partnering with local bakeries to supply fresh goods for our customers each day. We are also really excited about our partnership with Klean Kanteen to cut down on our production of single-use coffee cups. Through this partnership, we've created a loyalty program to offer customers a discount on beverages when they come in with their Klean Kanteen reusable coffee tumbler. 

Overall, at Drip-Thru Coffee, we are firm believers in doing our part to make the world a better place.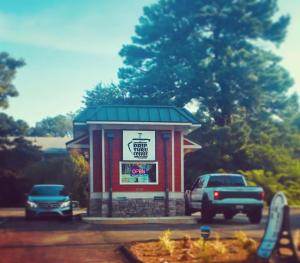 Q: What are your goals for the future of Drip-Thru Coffee? 
CD: We're actually looking to expand Drip-Thru Coffee - we already have one location in College Park, and another in Stockbridge, but we're hoping to have five locations in the Atlanta area. I'd also love to create direct relationships with farmers and roasters in Guatemala to begin a barista exchange program - supporting the local Guatemalan community, while providing an inside look at where our coffee comes from. My husband and I took a trip to visit the farmers in Guatemala and were deeply touched by the people, as well as the coffee making process, and we'd love to see the barista exchange program come to life in the coming years.