Hailing from Southern California, Alexia Ryan brings enthusiasm, passion and personality to Hapeville growler and bottleshop, Beer Girl. An ATL Airport District favorite, Beer Girl offers a variety of specialty beer and wines, alongside an outdoor space for the community to gather, drink and celebrate.
Q: Can you tell us more about your background and how you entered the bottleshop space?
AR: I'm originally from Southern California but went to college in Connecticut. For some reason, I always feel awkward just saying Yale - probably a symptom of the lingering imposter syndrome I've never quite been able to shake. I moved back to Los Angeles after college, thinking I was going to apply for law school, but decided at some point that I didn't really want to be an attorney. I tried a few things out, took some computer science classes and had a few dissatisfying jobs before falling into a career in IT. Shortly after that, I started consulting in the IT space and decided to move to Atlanta, mostly because I wanted to be able to afford my own home someday (housing in Los Angeles is incredibly expensive) and because it would be an easier home base for traveling.

Unfortunately, I left Los Angeles before craft beer had really become a "thing" there, but when I was in college in the Northeast, I had developed an appreciation for darker, maltier beers that weren't really the fashion on the west coast. After traveling for a few years, I decided to find a job locally, staying in IT, and shortly after that met my partner, Erik. We enjoyed exploring different craft beers together, learning all the styles and traveling to breweries. We had a short stint in Kansas City, where Erik had a two-year contract for work, and just kept exploring. We even traveled for a bit in Europe, visiting some of the most iconic beer destinations. Around the same time that Erik's contract was over, growler shops (where craft beer is sold in reusable glass jugs that are filled from kegs) were opening up in Georgia. By that time, working remotely from home had pretty much ruined my appetite for commuting, so I thought it was the perfect time to transition into a more exciting, new and fun-filled industry like craft beer. We opened Beer Girl in 2014, and the number of craft breweries in Georgia doubled that year. I'm not sure of the exact number now, but we have well over 100. Sadly, you can count on one hand the number of female brewery owners or brewers, but that's a whole other ball of wax.
Q: What's your favorite aspect of being a female business owner?
AR: Of course, without trying to sound cutesy or cliché, it's smashing the patriarchy! In our society, we have so many assumptions about what ownership is and looks like, what and where women are supposed to be and what they're supposed to want. It's always gratifying to me to know that by simply existing, we are going against the grain, so to speak - not to mention, when we are able to succeed despite the deck being stacked against us and some folks hating us more for doing so.
Q: Why are you proud to be a female business owner?
AR: Being a small business owner is sometimes romanticized as the American ideal, but it's a lot more difficult than showing up for a 9 to 5. You are responsible for every tiny aspect of your business; you pay everyone else before yourself and you don't get to call in sick. There are so many aspects of owning a business that are sometimes a little (and sometimes a lot) more challenging for women, especially in such a male-dominated industry. The time and energy wasted, as our credentials and ability are constantly questioned, is just the tip of the iceberg. You get criticized for everything - more vocally and more personally - and you don't always get to fight for yourself as much as you should (or want to) because you are dependent on your customers for income. I am a cisgender, hetero, white-passing Latina woman, so I am proud when I can use my business and my platform to help other women and minorities in pretty much any way, but I won't deny that it stings when we get a 1-star review for having a Stacey Abrams sign in the window, or get a nasty Facebook message letting me know someone won't support my business because they don't like the rainbow flag outside. In 2021, in one of the largest metro areas in the country, this happens more frequently than anyone should be comfortable with.
Q: Do you have any female mentors or inspirational figures?
AR: Unfortunately, I haven't really had any mentors on this journey. My dad had his own business for decades, so I had some familiarity with what I might be getting into, and my mom always encouraged me not to "let them tell you what you can or can't do," as they had when she was growing up. We had some very close family friends, like bonus grandparents, who ran a restaurant in my hometown and really inspired me, in life and business. The most literal thing I took from them was their tradition of closing each January and February to travel the world. Now, Erik and I close Beer Girl for a good chunk of February (when everyone is on their New Year's resolution detox anyway) and travel to different breweries across the country. I also remember how strong and independent Barbara was - she never took crap from anyone, and I loved that about her so much. We lost her in early 2020, but I'm so happy I could share my own success with her and make her proud.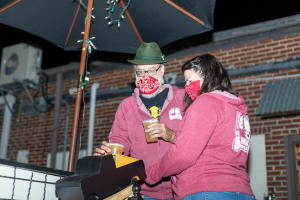 Q: Is there one book or resource that you'd recommend to aspiring female entrepreneurs?
AR: Nothing specific, but I would recommend knowing the laws that will impact your business. For Beer Girl - in the highly regulated alcohol industry - there are city/county, state and federal laws that we have to follow. Heck, because what we're doing is so unique, I've even had to craft a few ordinances just so we can do what we do. Add on top of that all the business licenses, sales tax, shipping laws and more, and it can get really messy if you're not able to navigate them. I have heard too many stories of folks jumping in feet-first, only to find out that they couldn't do what they thought they could.

Also, there was something I read before opening the shop that said business owners tend to only be friends with other business owners, and it has turned out to be more true than I gave it credit for at the time. We've made so many wonderful friends through Beer Girl, but we have definitely made strong connections with other small business owners, because there are things you just don't "get" when you have a 9 to 5 job. So, a small piece of advice I would give to aspiring female entrepreneurs is to befriend some small business owners and pick their brains to make sure this lifestyle will be a fit for your personality. I'm not sure that's something you could learn from a book or blog.