Offering an incredible variety of cuisine – ranging from Southern soul food to imaginative fine dining – the ATL Airport District is bursting with culinary delights just waiting to be discovered. It's high time the Southside got its moment in the foodie spotlight, and thanks to a special episode of Atlanta Eats, the city's go-to source for all things 'food scene' related in and around Atlanta for over a decade, the secret is out about some of the remarkable restaurants located right here in the District. These featured eateries aren't just known for their delectable dishes; they also boast unique personalities and fascinating stories. So, fasten your seatbelts and prepare for an unforgettable culinary adventure!
Aye Tea Elle: Elevating the Dining Experience
Rounding out our foodie tour of the ATL Airport District is Aye Tea Elle, a restaurant owned by three lifelong friends who saw the need for a sophisticated date night spot in Downtown College Park. The name is a clever play on the airport code for Hartsfield-Jackson Atlanta International Airport - ATL - and their goal is to "elevate" the dining experience in every way.
When you step inside Aye Tea Elle, you'll be transported to a smooth, mature environment. The sleek décor includes a baby grand piano in the dining room, a top-notch sound system, and an impressive bar menu. The food is equally impressive, featuring dishes like lobster tail mac and cheese, crab cakes, and lamb lollipops with homemade mashed potatoes and a balsamic glaze.
But what truly sets Aye Tea Elle apart is its visual bar program. Take, for example, the smoked Old-Fashioned that arrives in a treasure box, enveloping your senses with hickory smoke. Any of their hand-crafted cocktails are perfect to enjoy while plane-watching from the patio.
Jpresso Café: Where Every Customer Feels Like Family
Next up is Jpresso Café in Hapeville, where owner Christine Ahn has made it her mission to create the most welcoming atmosphere possible. When you step inside, you'll instantly feel like a regular, as if you've been coming here for years. The menu may be simple, offering items like avocado toast, bagels with lox, and granola bowls, but it's the simplicity that makes it so special. It's like your mom serving you breakfast, only with a gourmet twist.
Jpresso Café proudly serves Counter Culture coffee complemented with 1883 syrups, ensuring that every cup of coffee is a treat. The eclectic décor is homey and cozy, and you're sure to spot something different on each visit. It's kind of the ideal place for a game of "I Spy". Those already in the know call it their go-to spot to meet a friend or client or post up to get some work done. All while enjoying fresh, delicious food and coffee served with a smile.
Restaurant 356: A Dining Experience with a Porsche Twist
If you're a fan of high-performance cars and gourmet dining, Restaurant 356 is a winner. Named after the first car Porsche made 75 years ago, this restaurant is located in the Porsche Experience Center Atlanta in Hapeville. Everything about Restaurant 356 is a nod to Porsche's heritage, from the leather on the booths to the butter served with the table bread, shaped like a Porsche 911.
The Porsche Experience Center is all about allowing guests to experience the brand, and we all know that any good experience includes mouthwatering food. The dining room overlooks the test tracks where high-performance Porsche cars are pushed to their limits, all while planes take off and land at neighboring Hartsfield-Jackson Atlanta International Airport. Their fresh, innovative menu changes seasonally, but it is consistent in its high-quality offerings. It's a unique blend of culinary excellence and automotive excitement that you won't find anywhere else.
The Manchester Arms Pub: Your Neighborhood Cheers Bar
For a taste of British pub fare with a Southern twist, look no further than The Manchester Arms Pub. This cozy neighborhood pub nestled in a neighborhood in the heart of College Park, is affectionately known as the "Cheers" bar of the area. With its inviting patio and warm interior, it's a true home away from home for both locals and visitors.
Their menu features comfort foods like crispy and light fish and chips and meatloaf with mashed potatoes and peas. Their signature pork chop that's custom-cut (in mammoth proportions), is marinated for 24 hours, slow-braised, and finished on the grill with a reduction made from the marinade. 
Of course, being a pub, they have an impressive selection of beer, including standard pub brews like Smithwick's and Guinness, as well as a variety of local craft brews. Whether you're looking for a hearty meal or a relaxing drink with friends, The Manchester Arms Pub has got you covered.
The Real Milk & Honey: Where Super Brunch Dreams Come True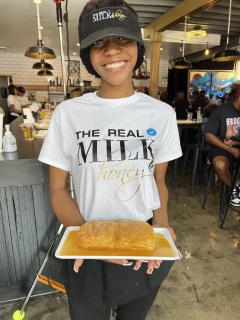 First up is The Real Milk & Honey, a restaurant that has been wowing locals and frequent fliers alike since it opened its doors in Downtown College Park in 2019 with brunch all day, every day. As one of the first Black-owned restaurants to kickstart the "super brunch" trend, it has set the standard for Southern hospitality.
Known for their over-the-top presentation, some of the menu's standout dishes include the shrimp and grits and the lobster, egg, and cheese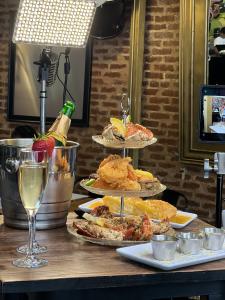 biscuit. And let's not forget the honey butter biscuits - they come drizzled (or rather, drenched) in honey butter. To complement your meal, their full bar offers mimosas in every flavor imaginable, in addition to other cocktails.
This gem is more than just a restaurant; it's a whole vibe with bright artwork, music, and the friendliest service around. Don't be surprised if you catch the servers dancing along to the bumping playlist, creating a fun and lively environment that's perfect for brunch any day of the week.
Virgil's Gullah Kitchen & Bar: Celebrating the Rich Gullah Geechee Culture
In our culinary journey through the ATL Airport District, we can't miss the opportunity to highlight Virgil's Gullah Kitchen & Bar, a restaurant with a mission to honor the oldest Black culture in America - the Gullah Geechee culture, born from the resilience of enslaved people brought to America to grow rice in the marshlands of South Carolina. Owners Juan and Gee Smalls infuse love into everything they do, paying a heartfelt tribute to this rich heritage.
Established in 2019 in the heart of Historic Downtown College Park, Virgil's Gullah Kitchen & Bar quickly became a local sensation. Its popularity soared to such heights that two more locations have sprung up in recent years, a testament to the authentic experience they offer.
A must-try dish at Virgil's is the shrimp and grits with crab gravy, a signature dish that not only tantalizes your taste buds but also carries a significant historical significance - did you know that shrimp and grits originated in the Gullah Geechee culture? A marker of the authenticity of their recipe is the brown gravy, according to Smalls.
The garage door that opens to the outside is a unique feature of Virgil's that allows the interior dining room to meld with the outdoor patio seating. It's an inviting touch that adds to the overall dining experience, allowing you to savor your meal amidst the charming ambiance of Historic Downtown College Park.
The ATL Airport District may be known for its proximity to the world's most traveled airport, but it's also a culinary treasure trove waiting to be explored. We are thrilled to have partnered with Atlanta Eats to showcase these incredible restaurants, each with its own unique personality and flavor. But this list is just the tip of the iceberg! We invite you to eat your way through the District and find your new favorite eatery. 
New episodes of Atlanta Eats air every Saturday at 8 pm and Sundays at 10:30 on Peachtree TV. You can watch restaurant segments from College Park and Hapeville anytime on AtlantaEats.com.