Conveniently located between the lively downtown Atlanta scene and the Hartsfield-Jackson Atlanta International Airport, the ATL Airport District is the ideal destination for groups from all over to gather. Home to the only convention center in the country directly connected to an airport via the ATL SkyTrain, the District hosts a variety of large meeting spaces and charming, out-of-the-box venues that deliver world-class service with an easy and authentic vibe. These unique venues provide opportunities to match any group's personal style or theme, from car lovers to foodies and everything in between.

The top venues for the best micro-events in the District include:
 
Venues With the Wow Factor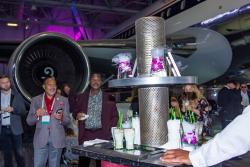 For an event to be legendary, the venue must provide the wow factor and there are a number of locations in the District that are sure to impress. Guests can spread their wings at The Delta Flight Museum with its unique event space including an airplane converted into a meeting space, and the ability to dine under a Boeing 767 plane. The museum is also filled with a variety of engaging exhibits and a full-motion flight simulator.  This venue will help your event take flight by exciting guests and aviation enthusiasts of all ages.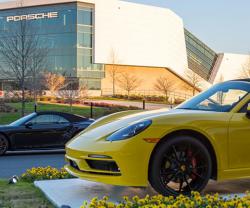 If your group prefers cars over planes, then the Porsche Driving Experience Atlanta is impossible to beat. Guests can test their driving skills on world-renowned racetracks in the simulator lab or tour the ever-changing collection of historical Porsche vehicles. The Porsche Driving Experience offers a flexible space with stunning views of the track that can work for everything from important meetings to social gatherings, to seminars. Located next door, guests can also enjoy the convenience of premier lodging at the Kimpton Overland Hotel.  


Venues With a Classic Theme
The College Park Women's Club is ideal for any event looking to capture a true sense of history and charm. The Woman's Club is an all-volunteer, not-for-profit service organization situated in the heart of Historic College Park. Camellia Hall's signature ballroom features an elegant stage with a beautiful grand piano and antique brass chandeliers suspended from the 18-foot barrel-vaulted ceiling. Guests will enter the ballroom through beautiful lead-glass double doors leading into a welcoming salon with an antique crystal chandelier and original fireplace.  Events can also be hosted outdoors in the breathtaking tea garden among oak trees and camellia bushes. The venue is also equipped with a full-service kitchen, making it convenient for caterers to provide delicious food options.
With the up-and-coming talent available in Atlanta, The Academy Theatre is the perfect venue for micro-events featuring performers and live entertainment. Founded in 1956, the theatre is Georgia's longest running professional theatre and is highly regarded for its productions of classic and contemporary plays. Whether you would like to host a private party, put on a performance, or rehearse your show, this venue is sure to garner a standing ovation from your audience!

Traditional Venues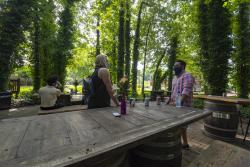 For guests seeking more traditional venues, there's no shortage of restaurants and hotels to enjoy in the District. Located in Hapeville, Paper Plane Restaurant offers small plates, great food and a community bar perfect for entertaining smaller groups. The restaurant also features three patios connected by winding walkways lined with beautiful art and decor.  This venue provides the perfect backdrop for an evening micro-event or group happy hour. The Atlanta Airport Marriott features a vibrant design and convenient venue location in the District.  Guests can choose from an array of indoor and outdoor spaces that will cater to any type of event. Providing over 30,000 feet of event space and easy access to many local attractions, it is an ideal venue for visitors. The Kimpton Overland Hotel is a great choice for those who want action-packed views to complement their event. Creating a sophisticated, European vibe, this hotel's rooftop haven overlooks the Porsche Experience Center racetrack and the captivating runways of Hartsfield-Jackson Atlanta International Airport.