Academy Theatre in the Park
Enjoy our theatre's series outdoors!
The Academy Theatre in the Park series of events are open to the public and free of charge. Most performances (there is a typo on this word currently on the site) will be held in Jess Lucas Park, 680 S Central Ave. in historic downtown Hapeville. Beverages and snacks will be available for purchase at the performances. For more information please call 404-474-8332 or go to www.academytheatre.org

*For the safety of our patrons, artists, and staff, we are practicing Social Distancing by performing outside. Masks Required. Bring your own table and chairs.
SCHEDULE
Love Letters by A.R. Gurney (PG-13)
Friday, October 2 @ 7:00 PM 
Saturday, October 3 @ 7:00 PM 
Sunday, October 4 @ 3:00 PM 
*Rain Date: Monday, October 5 @ 7:00 PM 
Hapeville Main Street Western Day featuring the band Back in the Saddle
(Event held at Hapeville's Corner Tavern)
Saturday, October 18, 2020 @ 4:00 PM – 8:00 PM 
*Band plays @ 6:00 PM
City Gate Dance Theatre
Friday, November 6 @ 7:00 PM 
*Rain Date: Monday, November 9 @ 7:00 PM 
Giwayen Mata | The All Sistah Dance, Percussion & Vocal Ensemble
Saturday, November 7 @ 7:00 PM 
*Rain Date: Monday, November 9 @ 7:00 PM 
Sounds that Inspire from Gospel to Jazz
Sunday, November 8, 2020 at 2:00 PM 
*Rain Date: Monday, November 9 @7:00 PM 
Another Night Before Christmas by Sean Grennan
Friday, December 4 @ 7:00 PM 
Saturday, December 5 @ 3:00 PM 
Sunday, December 6 @ 3:00 PM 
*Rain Date: Monday, December 7 @ 7:00 PM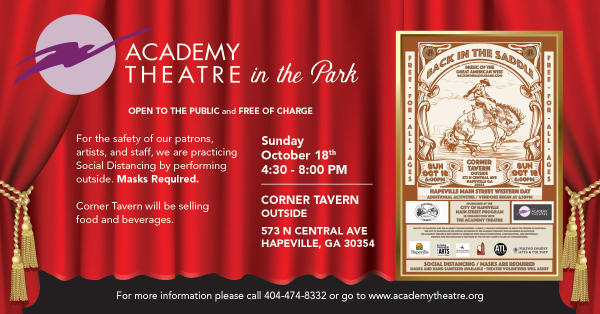 !function(d,s,id){var js,fjs=d.getElementsByTagName(s)[0],p=/^http:/.test(d.location)?'http':'https';if(!d.getElementById(id)){js=d.createElement(s);js.id=id;js.src=p+"://platform.twitter.com/widgets.js";fjs.parentNode.insertBefore(js,fjs);}}(document,"script","twitter-wjs");