It's finally Fall in the District! ATL Airport District is celebrating the season with several socially distant events throughout October. Interested in learning more? Check out upcoming happenings here!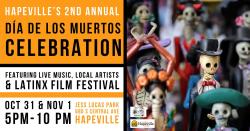 LOCALMOTION OKTOBERFEST – Saturdays through October
Prost! Join the City of Hapeville, LocalMotion Arts Festival and Beer Girl Bottle & Growler Shop for a socially distant month-long Oktoberfest celebration. A Southside twist on a German tradition, LocalMotion Oktoberfest will feature beer, wine, German-inspired cuisine, local art and live music, each Saturday in October from 6 to 10 p.m. Located in the Hapeville Arts Alley, guests are required to wear masks, aside from eating or drinking, and hand sanitizer will be available throughout the event.
ACADEMY THEATRE IN THE PARK
NOTE: Guests are required to practice social distancing and wear masks while attending performances. We encourage guests to bring their own table and chairs, but food and drinks will be available for purchase onsite.
Love Letters by A.R. Gurney – October 2, through October 3, 7 p.m.; October 4, 4 p.m.
Join Academy Theatre for a socially distant performance in the park during the first weekend of October. The performance is free to the public, and social distancing will be observed. Please note, this production is rated PG-13 and portrays adult situations and language.
Hapeville Main Street Western Day – Saturday, October 18, 4 to 8 p.m.
Head over to Hapeville favorite, Corner Tavern, for an afternoon of the wild west. Hapeville Main Street Western Day features a performance by the band Back in the Saddle at Corner Tavern beginning at 4 p.m., with band performance to follow.
Keep up with additional updates here.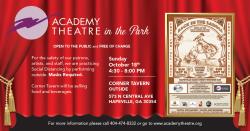 FULTON COUNTY EARLY VOTING – October 12 through October 30
Get your vote on, Atlanta! Fulton County residents are able to cast their ballots ahead of the November election, beginning Monday, October 12, at the Georgia International Convention Center.
Check out upcoming dates and times here.
DOWNTOWN LIVE – Saturday, October 17, 5 to 9 p.m.
Hosted by the City of Hapeville, Hapeville Downtown Live is back to celebrate the fall season! Join the District on Saturday, October 17, for a socially distant, outdoor event. Featuring live music from Daniel Toole, guests can enjoy the entertainment, alongside a pumpkin decorating station, and are able to set up chairs and tables for the evening.
Check out more here.
DIA de los MUERTOS – Saturday, October 31, through Sunday, November 1
Dia de los Muertos is back and better than ever! Head over to Hapeville's Jess Lucas Y-Teen Park for a weekend full of socially distant Halloween celebrations. The event will feature local artists, authentic vendors and a Latinx film festival, with more than 25 films. Guests can enjoy a lantern workshop, mask making session and movie screenings throughout the weekend.
Learn more on the event here.
Sponsored by:
City of Hapeville
Hapeville Arts
Hapeville Main Street
LocalMotion Arts Festival