ATL Airport District is excited to share several socially distanced events with the community! Interested in learning more about what's happening in the District? Check it out here!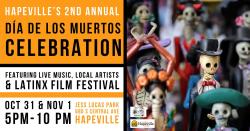 Dia de los Muertos
Sunday, November 1
Dia de los Muertos is back and better than ever! Head over to Hapeville's Jess Lucas Y-Teen Park for a weekend full of socially distant fall celebrations. The event will feature local artists, authentic vendors and a Latinx film festival, with more than 25 films. Guests can enjoy a lantern workshop, mask making session and movie screenings throughout the weekend.
Learn more on the event here.
ACADEMY THEATRE IN THE PARK
NOTE: Guests are required to practice social distancing and wear masks while attending performances. We encourage guests to bring their own table and chairs, but food and drinks will be available for purchase onsite.

Dreamers: An Outdoor Concert
Friday, November 6, 7 p.m.
Join Academy Theatre, in partnership with City of Hapeville and Gate City Dance Theatre, for an outdoor concert to kick off November – located at Jess Lucas Y-Teen Park. The performance is open to the public, with beverages and snacks available for purchase at the park.
Giwayen Mata: The All Sistah Dance, Percussion and Vocal Ensemble
Saturday, November 7, 7 p.m.
Giwayen Mata is partnering with Academy Theatre and City of Hapeville to bring the rich tradition of African drumming and dance to the Tri-Cities area. Head over to Jess Lucas Y-Teen Park and experience Giwayen Mata's outdoor, socially distanced performance.
Sounds that Inspire: From Gospel to Jazz
Sunday, November 8, 2 p.m.
Round out your weekend with an inspirational outdoor performance by Impact Theatre Atlanta, a Hapeville favorite, in partnership with City of Hapeville. Beginning at 2 p.m., guests can enjoy the socially distanced performance at Jess Lucas Y-Teen Park, free of charge.
ReKindle
 
Saturday, November 14, and Sunday, November 15, 2 p.m. to midnight
Join College Park for an outdoor music and arts festival located in College Park's historic downtown district, featuring a Plein Air Painting by local artists, Push! Push! artwalk, the College Parklet experience and a candlelit concert on Saturday evening. All proceeds from the weekend will benefit the College Park Auditorium Mural for Spring 2021, and social distancing will be observed.
All experiences are free, and concert tickets can be purchased here. 
CITY OF EAST POINT

7th Annual Turkey Drive
Saturday, November 21, 9 a.m. WHILE SUPPLIES LAST 
The 7th Annual Turkey Drive hosted by the Mayor and East Point City Council is Saturday, November 21 at 9:00 a.m. (while supplies last) at the Jefferson Park Recreation Center. This is a safe and socially distant drive-thru event. The City of East Point will be giving away 700 turkeys, 400 fresh produce gift cards valued at $25 each and more than 700 masks and hand sanitizers.
NOTE: You must be an East Point resident and bring proof of ID. Residents will receive one free turkey per household with meal bags to include vegetables.
Mayor's 2nd Annual Thanksgiving Brunch
Thursday, November 26, 11 a.m. - 2 p.m.
It's that time of the year again! Mayor Deana Holiday Ingraham invites you to her 2nd annual Thanksgiving Brunch on November 26th from 11am-2pm at Impact Church (2323 Sylvan Road, East Point, Ga 30344) 
No registration is required for the Drive-Thru Brunch, food box giveaway or winter essentials drive.To Dine On-site in a "Brunch Pod," please register by November 24th. Click here to register. 
*Face Mask/Covering is required. For more information call 404-270-7091.
Sponsored by:
City of Hapeville
Giwayen Mata
Impact Theatre Atlanta
College Park Main Street
City of East Point